Live Bait in Lake Itasca, MN
Rock Creek General Store, Inc. aims to provide hunters, campers, hikers and general visitors to Itasca State Park with everything they need to enjoy their time in the wilderness. Our convenience store and gas station is a true one-stop shop for everything from food and drink, to live bait and tackle, to camping supplies, hunting and fishing licenses, and more. Get what you need and set out for adventure in Lake Itasca, MN!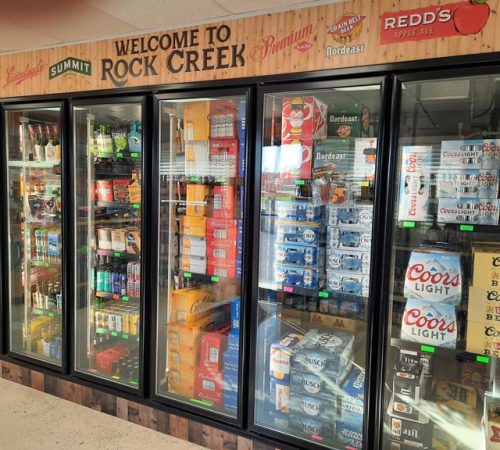 Bait and tackle: If you're an angler, stop by our bait shop before you head to Itasca State Park! We have a variety of live bait, as well as tackle, nets, lures and much more.
Beverages: Need an infusion of caffeine to get you going? Grab a coffee, cappuccino, pop or energy drink. We also carry water, juices and a variety of hot and cold beverages.
Camping gear and accessories: Planning on spending some time enjoying nature in Lake Itasca, MN? Stop by to stock up on camping supplies, gear and accessories.
Firewood: Nothing says camping like gathering around a fire. Pick up firewood at our convenient store before you set up camp. Our bundles are affordably priced!
Fishing and hunting licenses: Calling all sportsmen! Don't forget to pick up a fishing or hunting license! Stop by and we'll get you set up for a weekend of sport.
Food: From raw foods to snacks, our inventory of foodstuffs is extensive. We've got candy, gum, snacks, packaged foods, groceries, pizza, ice cream and more.
Gas: We're the closest fueling station to Itasca State Park and the last place to gas up before you enter. We also have Propane exchange in 20lb, 30lb, and 100lb tanks.
Liquor: Stop by for your favorite beer, wine, seltzers or liquor. We carry brand-name favorites at affordable prices, so you can toast to fun and adventure.
In addition, we also stock maps, ice and an assortment of sundries. We also have clean restrooms and an ATM on-site, for your convenience. We accept cash, checks and credit cards for all products sold.
Stop in Today!
Located 30 miles from the nearest town and conveniently located at the North Entrance to Itasca State Park, Rock Creek General Store, Inc. is your one and only area resource for gear, equipment and supplies. Stop in today and get what you need before heading into the wilderness. From fuel to food and everything in between, we've got you covered. Questions? Give us a call today at 218-266-3996.